DEKALB COUNTY SHERIFF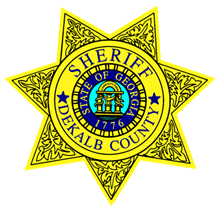 THE DEKALB COUNTY, GEORGIA SHERIFF'S OFFICE
The Constitution of the State of Georgia mandates that each county has a sheriff. The sheriff is a Constitutional Officer elected by the people of the county for a four-year term. State legislation designates the sheriff as the chief law enforcement officer in the county.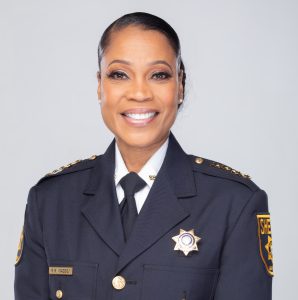 Sheriff's Authority and Responsibilities
The sheriff is responsible for protecting life and property and for preservation of the public peace. This encompasses all functions associated with those endeavors including both civil and criminal matters. In DeKalb County, the sheriff functions as a Law Enforcement Officer, an Officer of the Court, and as a Detention Officer. The sheriff executes these mandates with the support of a team of professionals that includes other sworn officers and civilian employees of the DeKalb County Sheriff's Office Headquarters and Jail.
Law Enforcement Officer
DeKalb County is home to both a sheriff's office and a county government police department, as well as 10 municipal police departments. In DeKalb County, the county police department is the agency of first response, and it handles all emergency 911 calls. However, the DeKalb County Sheriff retains the authority to intervene in any law enforcement effort within the county, including actions initiated by sheriff's deputies who witness a violation of law or who act in the absence of a county or municipal police officer.
The sheriff is also responsible for the housing and execution of warrants for the arrest of suspected violators of criminal law. The DeKalb County Sheriff's Office Fugitive Unit is widely known for its record of arresting 98 percent of murder suspects within 72 hours of warrant issuance.
Officer of the Court
The sheriff is responsible for providing physical security for DeKalb County courtrooms and buildings, as well as all judges, juries, employees and other persons who have business on the premises.
The sheriff is charged with: serving all court summons, including subpoenas and civil process papers; executing all court-ordered levies on property to satisfy judgments in court actions; transporting jail inmates to and from court; delivering convicted persons to prison after sentencing; and transporting mentally ill residents of the county to mental health emergency receiving facilities (with proper court authorization).
Detention Officer
The sheriff operates the DeKalb County Jail. The adult pre-trial detention center houses persons above the age of 17 arrested by all DeKalb County law enforcement agencies or who are arrested in DeKalb County by federal or state agencies. As official county jailor, the sheriff is responsible for the health, safety and welfare of individuals in custody in accordance with court-established guidelines, and for preventing inmate escapes from custody.
SHERIFF MELODY M. MADDOX
For DeKalb County Sheriff Melody M. Maddox, law enforcement is more than a job. It is an honorable profession and a way of life to which she is deeply committed. To her, that means creating a safer environment for DeKalb County's adults, seniors and young people.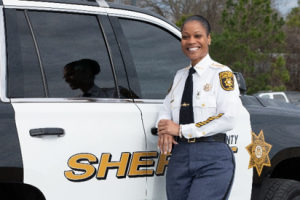 Her successful 20 plus-year career in law enforcement includes experience with various agencies serving the metropolitan area. She began in the profession with the DeKalb County Sheriff's Office and went on to serve with both the City of Atlanta Police and the DeKalb County Police Departments. In 2008, she applied that experience to the creation of the public safety office for the rapidly-expanding DeKalb Technical College – now Georgia Piedmont Technical College (GPTC). There, she became the office's Assistant Chief of Police and, subsequently, the college's first female Chief of Police. She was the only woman in that position within the Technical College System of Georgia's 22 colleges statewide. In 2013, Sheriff Maddox relinquished that position to pursue her longtime goal as an elected official in law enforcement. She was the only female among seven candidates seeking election as DeKalb County Sheriff in 2014.
In 2019, Sheriff Maddox joined the DeKalb County Sheriff's Office as Chief of Administration. On July 1, 2019, she was promoted Chief Deputy. The position is the highest ranking non-elected position in the agency and it is responsible for the planning and administration of the jail, courts, field and training operations. In November 2019, then Sheriff Mann retired and appointed her to serve his unexpired term. Sheriff Maddox became the county's 50th sheriff on December 1, 2019.
Sheriff Maddox is P.O.S.T. (Peace Officer Standard Training) certified and she is certified as a defensive tactics instructor. Her professional affiliations include the Georgia Association of Chiefs of Police (GACP), International Association of Chiefs of Police (IACP), Women in Public Safety, DeKalb County Chief's Association, National Sheriffs' Association, and the National Organization for Black Law Enforcement Executives (NOBLE).

Sheriff Maddox earned her Bachelor of Arts degree in Sociology from Morris Brown College, an MSA degree in General Administration from Central Michigan University, and a her master's degree in African-American Ministries from the Newburgh Theological Seminary/Newburgh College of the Bible. She is a graduate of J. E. Brown High School.

A tireless community service advocate, Sheriff Maddox is a 2017 graduate of Leadership DeKalb. She is a frequent guest speaker at Career Days and senior centers. As CEO of Woman 2 Woman Personal Awareness and Safety Training (W2W P.A.S.T.), Sheriff Maddox has an established reputation throughout the community as an expert in women's self-defense training and personal safety. Through her W2W P.A.S.T. Prom Sponsorship program, she encourages academic excellence that awards DeKalb high school seniors with a cash gift and prom essentials.

She is a member of the DeKalb County NAACP, National Council of Negro Women, Women for Morris Brown College, Saint Philip AME Church and Alpha Kappa Alpha Sorority, Inc. She has been recognized for her exemplary community service on the Trinity Broadcasting Network (TBN), and in The Ivy Leaf, the Alpha Kappa Alpha Sorority, Inc. national magazine. Women Looking Ahead newsmagazine featured her in its 2019 salute to Georgia's Most Powerful and Influential Law Enforcement Officials. An Atlanta native and DeKalb County resident, Sheriff Maddox has a daughter, Indira, three grandchildren, and one god-grandchild.
CHIEF DEPUTY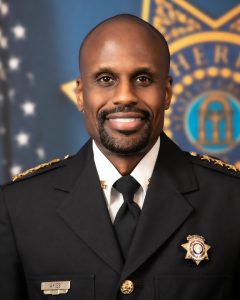 Randy Akies is Chief Deputy of the DeKalb County Sheriff's Office. He is responsible for management of all law enforcement operations of the agency, which include the DeKalb County Jail.
Services Operations, Field Services Operations, Court Services Operations, Training, and Recruitment. He holds the highest non-elected position in law enforcement in the agency.
Prior to his promotion in November 2019, Chief Akies was Chief Jail Operations Commander at the DeKalb County Jail for two years, heading the state's largest adult pre-trial detention facility. The 3,800-bed capacity jail houses an average 2,200 persons daily and processes more than 40,000 detainees each year.
A career law enforcement officer, Chief Akies joined the Sheriff's Office in 1995 as a Detention Officer and was promoted over the years to positions of increasing responsibility.
In 2000, he was promoted to Sergeant and assigned to Field Services Operations, transferring to its Criminal Process Unit after seven years. While in Field Services, he was responsible for instituting the agency's first K9 Deputy Unit. He was promoted to Lieutenant in 2010 and assigned to Jail Services Operations, where he implemented the Jail Emergency Services Team (JEST) in 2011. In 2014, he was promoted to Captain and Jail Services Operations Commander for Administration and Inmate Programs. On September 1, 2017, he was promoted to Major and named Chief Jail Services Operations Commander. Chief Akies is active in the community as a volunteer with Meals-On-Wheels, and he regularly represents the agency as speaker and panelist at school, faith group and civic events. He is a graduate of the Leadership DeKalb Class of 2018. A native of Atlanta, Georgia, Chief Akies earned his BA degree in Criminal Justice and his master's degree in Critical Incident Management from St. Leo University.