Major  L. J. Roscoe
FIELD SERVICES DIVISION COMMANDER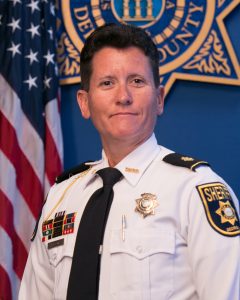 Major L. J. Roscoe is the Field Services Division Commander at the DeKalb County Sheriff's Office. The division is responsible for coordinating with DeKalb County Police and other agencies and jurisdictions to enforce the law and to bring offenders into custody.
Major Roscoe began her career in law enforcement in 1991 when she joined the DeKalb County Sheriff's office as a detention officer.  She was promoted to deputy sheriff in 1994, and continued to receive promotions and assignments of increasing responsibility in various agency divisions. In 2014, she was promoted to the rank of Major and transferred to her current position of Field Division Commander.
Major Roscoe has both the Supervision and Management certifications from P.O.S.T., as well as Intermediate and Advanced level P.O.S.T. certifications.  She is also a general, firearms, defensive tactics, verbal judo, and TASER instructor.  Major Roscoe earned both a Bachelor's degree and Master's degree in law enforcement management from Madison University in Mississippi; a Bachelor of Business Administration from Columbia Southern University in Alabama; and, a Master's degree in Organizational Leadership, from Waldorf University in Iowa.  Major Roscoe is also a graduate of the Northwestern University's School of Police Staff and Command, and she is pursuing a doctorate at Columbia Southern University.
A native of South Carolina, Major Roscoe is a graduate of the Leadership DeKalb Class of 2016 and a member of the Justice Day Committee.  She is a member of the advisory board for the National Alliance on Mental Illness (NAMI) DeKalb Chapter. In the community, Major Roscoe coordinates the agency's running team and its volunteers for Georgia Special Olympics fundraising programs.
---
Field Services Division
The Field Services Division is the main law enforcement branch of the DeKalb County Sheriff's office. It coordinates with DeKalb County police and other local, state and federal agencies and jurisdictions to enforce the law and bring offenders into custody.
The Field Uniform Section operates the Agency's around-the-clock in-house communications center and is supported by commanders, supervisors, deputies and K9 officers in an ongoing pursuit of suspects.  Officers in this section can perform traffic control functions and issue civil papers, when required.
The Criminal Process Section includes these units:
The DeKalb County Sheriff's Fugitive Unit is 98 percent effective in making arrests on warrants through a team of deputies and investigators who execute warrants issued by law enforcement agencies for the arrest of criminals in major felony cases.
The Domestic Violence Unit serves temporary protective orders and provides security and transportation to shelters for battered spouses and children.
The Sex Offender Registry and Tracking (SORT) Unit serves warrants, apprehends sex offenders who fail to register, and keeps law enforcement agencies and citizens informed through access to the online OffenderWatch® database.
The Warrant Unit houses and processes all criminal warrants and arrest reports, coordinates intelligence with other agencies, and responds to public requests for information.
The DeKalb Sheriff's Office has its own Special Weapons and Tactics (S.W.A.T.) Unit, which is a specially-trained team of sworn deputies who support the Field Services Division and tactical units of other agencies to resolve high-risk situations. This unit reports directly to Sheriff Mann.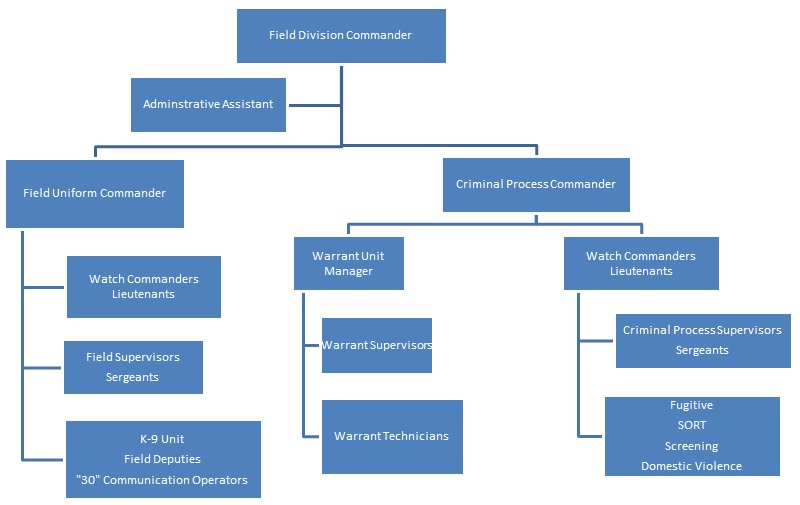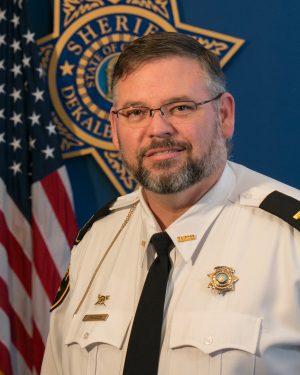 Captain J. Emerson
Field Uniform Commander
Captain J. Leslie
Criminal Process Commander