Major Pamela Miller
COURT DIVISION COMMANDER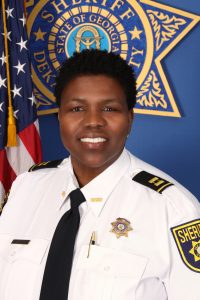 Major Pamela Miller is the Court Division Commander at the DeKalb County Sheriff's Office.  The division is responsible for maintaining a safe and secure environment for all those that work in and visit the DeKalb County Judicial Complexes.  Those facilities include the DeKalb County Courthouse in Decatur and the Memorial Drive Complex – location of State Court Traffic, Magistrate Court and Juvenile Court.
Major Pamela Miller began her career in law enforcement in 1992 when she joined the DeKalb County Sheriff's Office as a Detention Officer following graduation from Georgia State University with a Bachelor of Science degree in Criminal Justice.  In 1994, Major Miller was promoted to Deputy Sheriff and assigned to the Field Division.
Major Miller continued to receive promotions and assignments throughout the Agency.  As Deputy Sheriff Sergeant, she supervised the Grady Transport Unit; as Deputy Sheriff Lieutenant in the Jail Division heading Inmate Services.  After being promoted to Deputy Sheriff Captain in 2006, she worked as Jail Watch Commander, Field Uniform Division Assistant Watch Commander then Court Division Assistant Watch Commander. As Deputy Sheriff Captain during 2015, she served as Interim Court Division Commander.  In 2016, she was promoted to Major and assigned to the position of Court Division Commander.
A native of Columbus, Georgia who was raised in Augusta, Georgia, Major Miller received her Master of Public Administration from Columbus State University Command College in 2010. She is a member of the National Organization of Black Law Enforcement Executives (NOBLE), a Certified Verbal Judo Instructor, and a P.O.S.T. Certified Instructor.
---
Court Services Division
The Court Services Division is responsible for the security of all the county's courts and individuals within the premises.
The Courts Division office is located at the DeKalb County Courthouse at 556 McDonough Street, Decatur, GA 30030, along with these courts:
Superior Court (felonies, cases of equity, divorce, and title to land) 404-371-2836
State Court (civil law actions not otherwise within the jurisdiction of Superior Court, dispossessions, misdemeanors, and certain traffic offenses) 404-371-2261
Magistrate Court—Civil Division (cases involving civil claims of $15,000 or less and certain traffic offenses) 404-371-2261
Probate Court (probate of wills, administration of estates, appointment of guardians, involuntary hospitalizations, pistol licenses and marriage licenses) 404-371-2601
These courts are located in the DeKalb County Public Safety Building at 3630 Camp Circle, Decatur, GA 30032 (adjacent to the DeKalb County Jail at Memorial Drive and I-285)
Magistrate Court—Criminal Division (preliminary criminal cases and bond hearings) 404-294-2150
State Court Traffic Division (cases involving traffic violations) 404-294-2099
This court is located at 3631 Camp Circle, Decatur, GA 30032 (east of the DeKalb County Jail at Memorial Drive and I-285)
Juvenile Court (cases involving individuals under the age of 17) 404-294-2700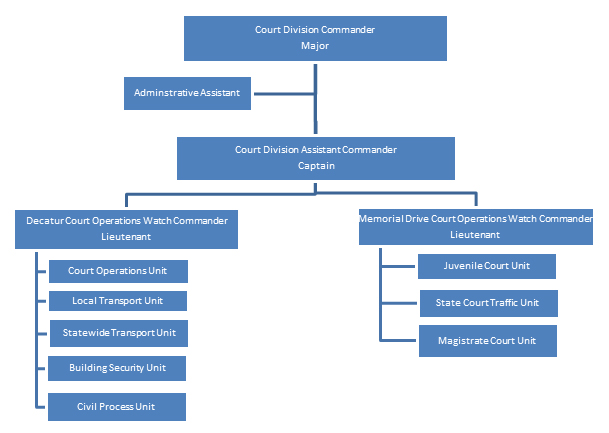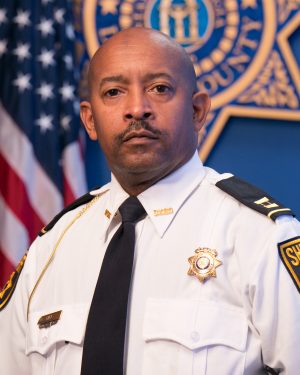 Captain G. Hill
Court Division Assistant Commander